Unfortunately Alexandra is not currently taking on new students.
Alexandra has taught students of all ages and abilities for more than a decade, with all students passing and many achieving high marks for their ABRSM grade examinations, GCSE's and A Levels.

Alexandra currently teaches harp privately at her home studio, having previously also taught at many prestigious schools including Brighton College, Lancing College, Lingfield Notre Dame, and Burgess Hill Girls.
Students benefit from regular performance opportunities at student concerts and music competitions, and first hand news of many interesting harp concerts or workshops taking place in the local area. Whether you are learning pedal or lever harp, there is no need to bring your own instrument to lessons as Alexandra has both a Lyon & Healy 85E and a Pilgrim Clarsach for teaching purposes.
Whether you want to take grade examinations or simply learn to play music that you love, Alexandra's lessons are well organised and structured to help you achieve your goals.
Alexandra has given workshops demonstrating the harp and how to compose for the instrument to various schools, and as part of the West Sussex LEA's Enrichment Scheme for Gifted and Talented Children. She has teamed up on several occasions with Pilgrim Harps, bringing many instruments into schools for students to try – inspiring them to think of the instrument as something more versatile and rewarding to learn.
Alexandra is also able to provide lessons in music theory for students studying any instrument.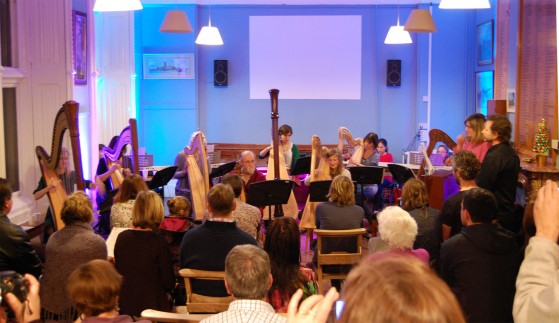 TRAINING AND QUALIFICATIONS
"A superbly technical performance which was extremely convincing from the first note to the last"
- ABRSM
Starting out learning piano at age 7, Alexandra had already achieved her Grade 8 when she began her studies on the harp. She went on to study piano at Trinity College of Music before gaining a scholarship to study harp at Huddersfield University, where she obtained her BMus Honours degree. After graduating, Alexandra resumed her harp studies with Helen Arnold, achieving a high distinction for her final Grade 8 and the ABRSM Diploma in Performance.